Optrex Soothing Eye Drops for Itchy Eyes 10ml
Product Information
Optrex Soothing Eye drops contain natural plant extracts which gentle cleanse and soothe the eyes.


Description
Optrex Soothing Eye Drops for itchy Eyes contains the active ingredient, sodium cromoglicate, which works by reducing allergic responses. It works by flushing out allergenic particles to provide gentle relief from the irritation they cause to your eyes.

Balanced at the natural pH level of tears, Optrex Soothing Eye Drops are suitable for everyday use and help to relieve irritation caused by pollen, pet hair & dust mites.
Usage
Only for use in the eyes
Directions for useAdults and Children
1. Remove contact lenses before use, allow at least 15 minutes before replacing them after use.2. Tilt your head backwards and gently squeeze 2 to 4 drops into each eye to instantly refresh them.3. Use as often as required.
Ingredients
Aqua, Hamamelis Virgina (Witch Hazel), Alcohol, Boric Acid, Glycerine, Sodium Borate, Benzalkonium Chloride.
Suitable For
Safe to use in children's eyes with the supervision of an adult.
Cautions/Allergies
Keep out of reach of children.Do not use after expiry date.
Frequently Asked Questions (0)
You Could Also Consider These Dry Eyes Products
Great Combinations
Optrex Refreshing Eye Drops for Tired Eyes 10ml
Optrex Refreshing eye drops are specially designed to help soothe tired, sore and uncomfortable eyes.
£4.99
Add to basket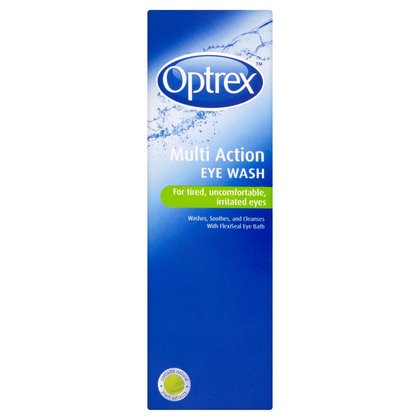 Optrex Multi Action Eye Wash 300ml
Optrex Multi Action Eye wash washes away particles to help cleans and soothe the eyes.
£6.64
RRP £6.99
Save £0.35 (5% OFF)
View Product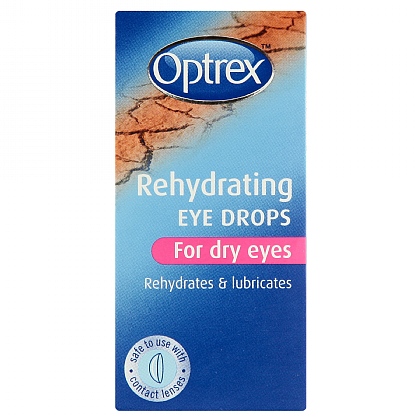 Optrex Rehydrating Eye Drops for Dry Eyes 10ml
Optrex Rehydrating Eye Drops are specially formulated to instantly rehydrate and lubricate dry eyes.
£4.99
Add to basket