Product Information
Optrex Rehydrating Eye Drops are specially formulated to instantly rehydrate and lubricate dry eyes. They are suitable for daily use and for those who wear contact lenses


Description
Optrex Rehydrating Eye Drops instantly rehydrate and refresh dry, tired or irritated eyes. They have been specially formulated to help your eyes tackle aspects of modern living, such as computer usage, contact lenses wear, driving, air conditioning and polluted atmospheres.
Optrex Rehydrating Eye Drops contains purified water and sodium hyaluronate which work to replenish your tears, lubricating your eyes so you can feel an immediate difference. Suitable for everyday use, Optrex Eye Drops are preservative free and suitable for use with contact lenses too.
Usage
Directions for useAdults and Children (12+)1. Check tamper evident seal is intact before first use.2. Wash hands thoroughly before use.3. Unscrew top - fully breaking the safety seal.4. Tilt your head backwards and gently squeeze 1-2 drops into each eye, when required, or use as directed by your doctor or eye practitioner. Blink a few times to ensure the whole eye is covered.5. Replace the bottle to tightly Children must be supervised by an adult.StorageStore below 25¦C.Do not freeze.Protect from sunlight.Discard 28 days after opening.
Ingredients
AquaSodium Chloride, PEG 8000, Boric Acid, Sodium Hyaluronate, Potassium Chloride, Sodium Chlorite, Calcium Chloride, Magnesium Chloride, Hydrogen Peroxide
Suitable For
Adults and Children 12 and over
Cautions/Allergies
Keep out of the sight and reach of children.Do not use after expiry date.
ImportantDo not use if you are allergic to any of the ingredients.Do not use with another eye drop unless directed by your doctor or eye practitioner. Do not use during pregnancy or breast-feeding.Do not swallow the solution. Avoid placing the top of the dropper in contact with the eyelid, eye or any other surface.If symptoms persist, consult your doctor or eye practitioner.
Frequently Asked Questions (0)
You Could Also Consider These Dry Eyes Products
Great Combinations
Optrex Refreshing Eye Drops for Tired Eyes 10ml
Optrex Refreshing eye drops are specially designed to help soothe tired, sore and uncomfortable eyes.
£4.99
Add to basket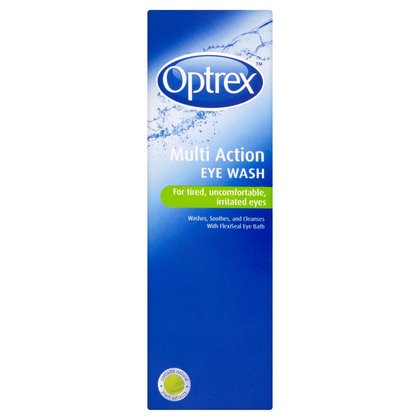 Optrex Multi Action Eye Wash 300ml
Optrex Multi Action Eye wash washes away particles to help cleans and soothe the eyes.
£6.64
RRP £6.99
Save £0.35 (5% OFF)
View Product