Optrex Multi Action Eye Wash 300ml
Product Information
Optrex Multi Action Eye wash washes away particles to help cleans and soothe the eyes. It is useful for tired uncomfortable and irritated eyes and includes a special flexiseal eye bath for ease of use.


Description
Optrex Multi Action Eye Wash washes, soothes and cleanses tired, irritated and uncomfortable eyes. Balanced at the natural pH level of tears and enriched with plant extracts, this specially developed formula gently helps to remove dust, make-up and other particles that can easily get trapped on the surface of your eye.Optrex Multi Action Eyewash has been designed to help tackle the effects of age and modern living, where uncomfortable eyes are caused by contact lens wear, driving, computer use and smoky or polluted environments. This versatile eye wash is a must-have for your first aid kit!.
Usage
Directions for useAdults and Children 1. Rinse the eye bath with product before use.2. Fill with Eye Wash until a third full. 3. Bend head slightly forward, holding eye bath by its base. 4. Place eye bath over your eye.5. Slowly raise your head, opening your eye so the Eye Wash flows freely over it. 6. Gently rock your head from side to side for at least 30 seconds. 7. Discard any Eye Wash left in the eye bath.8. Repeat steps 1-7 for your other eye.Only for use in the eyes
Safe for everyday use.
ImportantRemove contact lenses before use, allow at least 15 minutes before replacing them after use.If the eye bath is likely to be used by more than one person, it is a sensible precaution to sterilise it by boiling it in water for 10 minutes..
Ingredients
AquaHamamelis Virginia (Witch Hazel)Alcohol, Boric Acid, Glycerine, Sodium Borate, Benzalkonium Chloride
Suitable For
Cautions/Allergies
Keep out of reach of children.Do not use after expiry date.
ImportantIf irritation persists seek medical advice. Discard used wash, do not return to the bottle.
Questions & Answers (0)
You Could Also Consider These Eye Drops & Washes Products
Great Combinations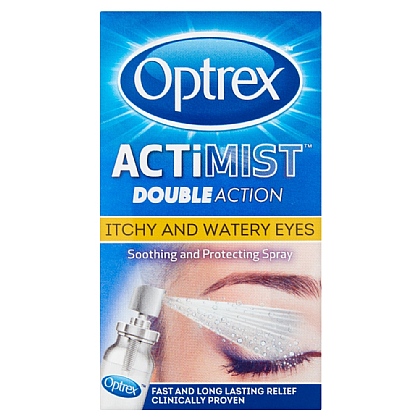 Optrex ActiMist 2 in 1 Eye Spray for Itchy + Watery Eyes 10ml
Optrex ActiMist 2 in 1 Spray for itchy and watery eyes repairs the eye's natural protective layer.
£15.19
RRP £15.99
Save £0.80 (5% OFF)
View Product
Optrex ActiMist Double Action Dry and Tired Eyes Spray 10ml
Optrex ActiMist Double Action Dry and Tired Eyes Spray repairs the eye's natural protective moisture layer to relieve, refresh and revive the eyes.
£15.19
RRP £15.99
Save £0.80 (5% OFF)
View Product