Optrex ActiMist Double Action Dry and Tired Eyes Spray 10ml
Product Information
Optrex ActiMist Double Action Dry and Tired Eyes Spray repairs the eye's natural protective moisture layer to relieve, refresh and revive the eyes. It is suitable for everyday use and won't smudge eye makeup.


Description
Dry and tired eyes can occur when either you don't produce enough tears or when a gap in the protective tear film allows moisture to be lost. Every time that you blink your eye your eyelids spread your tears across the surface of the eye to form a protective film. This film helps your eyes to remain hydrated by reducing the evaporation of moisture.

One of the main causes of dry and irritated eyes is due to the modern lifestyle - staring at a computer screen, driving long distances, air conditioning and central heating are all culprits. Older people (particularly women) and contact lens wearers are also prone. The symptoms of dry eye tend to affect both eyes but do not usually cause any significant pain. Symptoms often worsen as the day goes on but your vision should remain normal.

If you find drops, gels and washes difficult & messy to apply then Optrex ActiMist is an ideal alternative. With Optrex ActiMist Double Action Dry and Tired Eyes Spray, soothing dry, tired eyes is now a simple process. Simply spray ActiMist onto your closed eyelids for effective relief from the irritation caused by dry eyes.
Usage
Directions for useWhen using for the first time, push down on the nozzle 3 - 4 times.Hold 10cm from your closed eyelid.Spray 1-2 times onto your closed eyelids 3 to 4 times per day.
ImportantBefore use please read enclosed information leaflet
Ingredients
1ml contains 10mg Soy Lecithin, 8mg Sodium Chloride, 8mg Ethanol, 5mg Phenoxyethanol, 0.25mg Vitamin A Palmitate, 0.02mg Vitamin E, Purified Water
Suitable For
Cautions/Allergies
Store at room temperature (between 2¦C and 25¦C).
Questions & Answers (0)
You Could Also Consider These Eye Drops & Washes Products
Great Combinations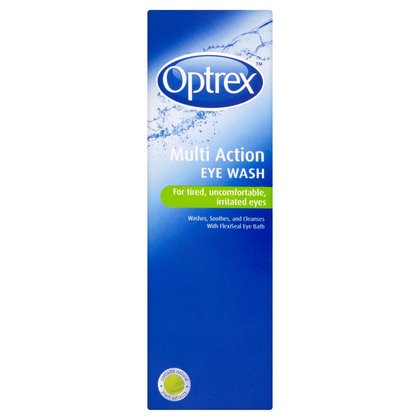 Optrex Multi Action Eye Wash 300ml
Optrex Multi Action Eye wash washes away particles to help cleans and soothe the eyes.
£6.64
RRP £6.99
Save £0.35 (5% OFF)
View Product