Optrex ActiMist 2in1 Eye Spray - 10ml
Optrex ActiMist 2 in 1 Spray contains Pro-Vitamin B5 and repairs the eye's natural protective moisture layer. It is suitable for everyday use, even for those who wear contact lenses
Refreshes and revives the eyes
Instant relief for up to 4 hours
Moisturises skin around the eyes
Product Information
Usage
Directions for useWhen using for the first time, push down on the nozzle 3-4 times.Hold 10cm from your closed eyelid.Spray 1-2 times onto your closed eyelids 3 to 4 times per day.ImportantBefore use please read enclosed information leaflet.
Ingredients
Each 5ml dose of Oral Solution contains Active ingredient Guaifenesin 50mg. Also contains Sucrose, Sodium and Glycerol
Suitable for / Cautions
Suitable For
Cautions/Allergies
Store at room temperature between 2¦C and 25¦C
Great Combinations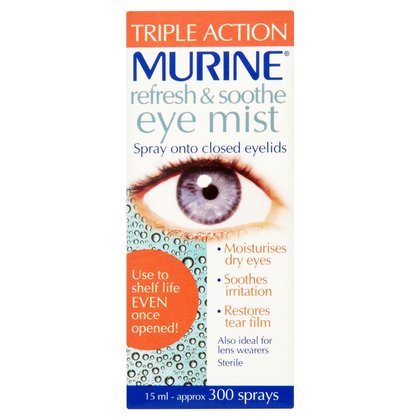 Murine Refresh & Soothe Eye Mist - 15ml
Murine Refresh & Soothe Eye Mist soothes the irritation and discomfort associated with dry & itchy eyes.
£9.49
RRP £9.99
Save £0.50 (5% OFF)
Add to basket
Optrex ActiMist 2in1 Dry + Irritated Eye Spray 10ml
Optrex ActiMist 2 in 1 Spray for Dry and Irritated Eyes repairs the eye's natural protective moisture layer to relieve, refresh and revive the eyes.
£15.19
RRP £15.99
Save £0.80 (5% OFF)
Add to basket
You Could Also Consider These Eye Drops & Washes Products