Bausch & Lomb Biotrue Multi-Purpose Contact Lens Solution 300ml
Product Information
Bausch and Lomb Biotrue is a multipurpose solution which cleans, disinfects, rinses and removes protein from soft contact lenses. It is pH balanced to match healthy tears


Description
Bausch & Lomb Biotrue Solution moistens in a similar way that the eyes do as it uses a lubricant also found in the eyes and it is pH balanced to match healthy tears.
Usage
Place approxiamately three drops of solution on each side of the contact lens and rub gently for twenty seconds. Throughly rinse each side of the contact lens for five seconds with solution. Place cleaned contact lenses in the lens case and fill with fresh solution. Soak for at least four hours. Failure to discard the solution from the lens case after each use, or use of water to care for your lenses, may lead to contamination resulting in eye injury and potential loss of vision.
Ingredients
Hyaluronan. Sulfobetaine. Poloxamine. Boric Acid. Sodium Borate. Edetate Disodium. Sodium Chloride. Preserved with a dual dis-infection system (polyaminopropyl biguanide & polyquaternium).
Suitable For
Suitable For contact lense wearers.
Cautions/Allergies
Always discard the solution from the lens case after each use. Keep out of the reach and sight of children. Keep the bottle tightly closed when not in use. Store at room temperature. Use before expiration date printed on the packaging. Discard any remaining solution 90 days after opening.
Frequently Asked Questions (0)
You Could Also Consider These Contact Lens Solution Products
Great Combinations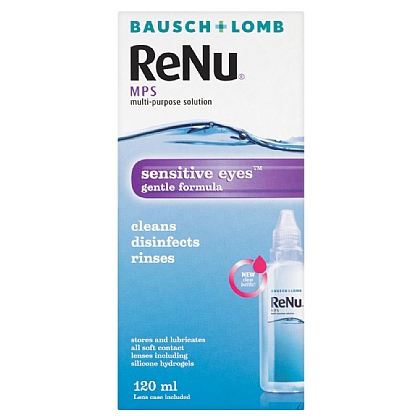 Bausch & Lomb Renu Multi-Purpose Solution Sensitive Eyes 120ml
Bausch and Lomb Renu Multipurpose Solution Sensitive Eyes cleans, disinfects, rinses, stores and lubricates soft contact lenses including silicone hydrogels.
£5.03
RRP £5.22
Save £0.19 (4% OFF)
View Product