Driclor Roll-On Anti-Perspirant - 75ml
For the treatment of hyperhidrosis (excessive perspiration)
Active ingredient Aluminium Chloride Hexahydrate
A strong anti-perspirant
For the treatment of hyperhidrosis (excessive perspiration)
Active ingredient Aluminium Chloride Hexahydrate
A strong anti-perspirant
Description
Driclor Roll-On Antiperspirant has been formulated to combat the symptoms of Hyperhidrosis (excessive perspiration). Hyperhidrosis is a condition caused by the failure of the nervous system producing more sweat that normal. It usually occurs in areas such as armpits, palms, hands, face and soles of your feet. Driclor contains the active ingredient aluminium chloride, an effective antiperspirant that controls excessive sweating. Aluminium chloride works by blocking the sweat glands and preventing the production of sweat. Over time, you will notice that sweating will stop during the day and the number of times in which you apply Driclor Antiperspirant will be dramatically reduced.It is best to use Driclor just before you go to bed and wash off in the morning. Do not re-apply during the day. Normal deodorants can still be used alongside Driclor as it is not a deodorant and does not contain perfume..
Usage
Adults: initially apply once daily, last thing at night. In the morning, wash off and continue to use your regular deodorant as normal. Always dry the affected areas thoroughly before applying (otherwise irritation may occur).
Ingredients
The active ingredient is aluminium chloride hexahydrate (20% w/w or 185mg/ml). The other ingredients are ethyl alcohol and purifed water
Suitable For
Suitable For adults.
Cautions/Allergies
Keep this medicine out of the sight and reach of children. Do not apply to wet, broken, sensitive, irritated or recently shaven skin. Avoid contact with the eyes. Keep away from naked flame. Avoid contact with costume jewellery and polished metal surfaces.
Frequently Asked Questions (0)
You Could Also Consider These Anti Perspirants Products
Great Combinations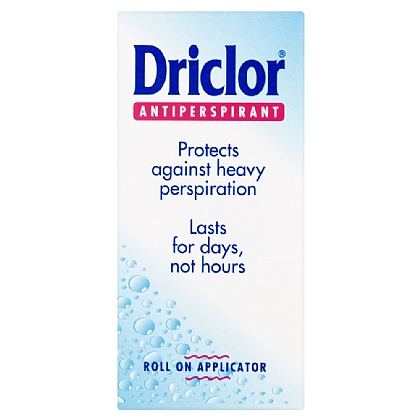 Driclor Solution Roll On Applicator - 20ml
Roll on applicator. Combats excessive perspiration. Lasts for days. Promotes a cool & dry feeling.
£6.49
Add to basket