Product Information
Sterimar Congestion Relief Hypertonic Spray is completely natural nasal solution specifically created for people suffering from nasal congestion and severe ENT disorders. This gentle sea water nasal spray is very well tolerated even on children 3 years onwards and pregnant women.


Description
Stérimar Congestion Relief Hypertonic Spray is a completely natural solution made out of the purest sea water taken off the French coast in Britanny. It contains a higher salt concentration than Stérimar Nasal Hygiene Isotonic Spray to naturally and gently relieve congestion. Stérimar Hypertonic also contains copper and manganese, which provide additional elements to help fight against infectious irritants.

Unlike some other medicated treatments for nasal congestion, Stérimar Hypertonic is very well tolerated even on children three years and above. It doesn't incur drowsiness, has no known withdrawal symptoms or rebounce effects, and can be used by pregnant and breast-feeding women. In fact, ear, nose and throat specialists recommend Stérimar Congestion Relief Hypertonic Spray for adults with severe congestion and blocked noses..
Usage
Press the nozzle to spray for a few seconds then allow the excess solution to drain before blowing the nose.
Clean the nozzle with soapy water, rinse and dry.
Repeat the operation in the other nostril.
Sterimar Nasal Hygiene Hypertonic Spray can be used as long as required 2 - 6 times a day or more if needed, or as directed by a medical practitioner.
Ingredients
Natural sea water which is filtered and made hypertonic. Sea water: 75%. Purified water: 25%. Inert propellant gas: nitrogen net volume = 100ml.
Suitable For
Suitable for the whole family, including children 3 years & over, and mothers during pregnancy.
Cautions/Allergies
Do not exceed the stated dose.
Keep out of the reach and sight of young children. Suitable for use during pregnancy.
Pressurised container, do not expose to sunlight, pierce or incinerate.
Frequently Asked Questions (0)
You Could Also Consider These Snoring Products
Great Combinations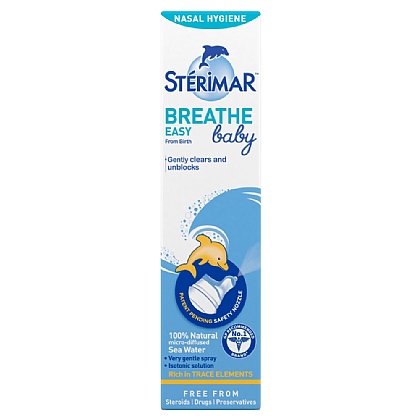 Sterimar Baby Nasal Hygiene Spray - 50ml
Sea water micro diffusion. Gentle spray. Baby nozzle. 100% natural. Isotonic.
£4.29
Add to basket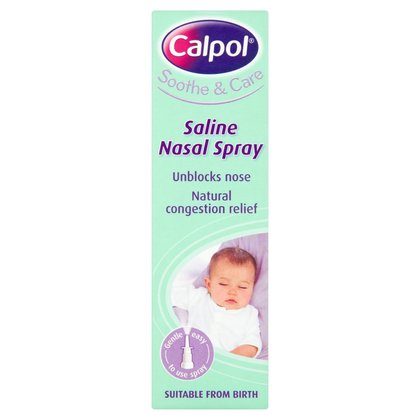 Calpol Soothe & Care Saline Nasal Spray - 15ml
Isotonic nasal saline spray. Provide natural relief from nasal congestion. Gently clean & moisten the mucous membranes of the nose.
£5.10
RRP £5.37
Save £0.27 (5% OFF)
View Product