Alpecin Double Effect Shampoo - 200ml
Alpecin Double Effect Shampoo has two active functions: firstly it effectively stimulates hair growth directly at the roots with the active ingredient caffeine. It also removes dandruff.
Used for hair loss and dandruff
contains stimulating caffeine complex
Suitable for men and women
Product Information
Usage
It is advised to massage Alpecin Double Effect Shampoo into the scalp and leave for 2 minutes (from application to rinse). Alpecin Double Effect Shampoo does not contain any conditioning agents so your hair will immediately have more grip.
Ingredients
Aqua. Sodium Laureth Sulfate. Caffeine. Panthenol. Parfum. Salicyclic Acid. Hydrolysed Wheat Protein. Sodium Chloride. Sodium Citrate. Menthol. Sodium Benzoate. Limonene. Phenoxyethanol. Methylparaben. Butylparaben. Ethylparaben.
Suitable for / Cautions
Suitable For
Suitable For adults over the age of 18 years.
Cautions/Allergies
Keep out of the sight and reach of young children. Competitive athletes should note that caffeine can be detected in hair follicles. Please note: Alpecin will not revive dead hair roots, thus it will not make a bald scalp growing hair again.
Great Combinations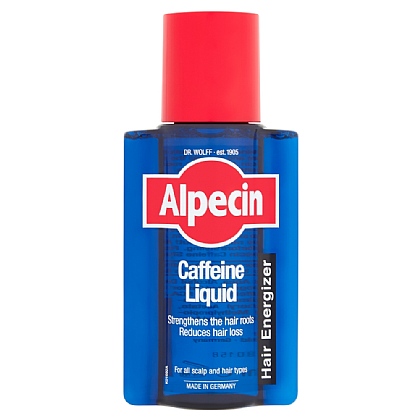 Alpecin Liquid - 200ml
Strengthens hair roots. Prevents hair loss. Suitable for all scalp types. Contains caffeine complex.
£7.70
RRP £8.10
Save £0.40 (5% OFF)
Add to basket
You Could Also Consider These Dandruff Products