Cystopurin Granules Cranberry (GSL) - 6
With natural cranberry juice extract
Low in sodium
48 hour course
Granules for Oral solution
With natural cranberry juice extract
Low in sodium
48 hour course
Granules for Oral solution
Product Information
Cystopurin Granules Cranberry (GSL) have been formulated for the symptomatic relief of cystitis.


Description
If you are unsure whether or not you have cystitis, it is important to seek the advice of a medical practitioner before taking Cystopurin. This is to ensure that you get the best results from Cystopurin. The symptoms of cystitis include an inflammation of the bladder, which causes painful irritation and an unpleasant burning sensation when passing water. It is an acute common condition amongst many women, which can occur at any age but tends to manifest in pregnant, sexually active and post-menopausal women.

Cystopurin Cranberry Sachets contain the active ingredient potassium citrate, which helps to relieve the symptoms of cystitis. It works by making urine less acidic and therefore reducing the discomfort of passing acidic urine.
Usage
Adults and children over six years: empty the contents of one sachet into a small glass of cold water (200ml) and stir until the granules dissolve to give a fruit flavoured drink. Take 1 sachet dissolved in water, 3 times daily for 2 days. All 6 sachets must be taken to complete the course of treatment.
Ingredients
Each sachet of granules contains: Potassium Citrate B.P. Aspartame (E951). Mannitol (E421).
Suitable For
Suitable For adults and children over the age of 6 years.
Cautions/Allergies
Do not exceed the stated dose. Keep out of the sight and reach of children. Not suitable for those under the age of 6 years. Not suitable for use during pregnancy, in those with heart disease, high blood pressure, diabetes, any kidney disease or where a restricted salt intake is indicated.
Frequently Asked Questions (0)
You Could Also Consider These Cystitis Products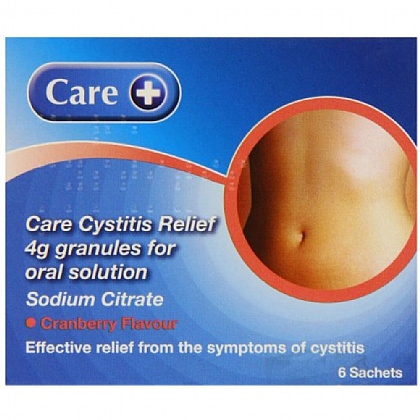 Care Cystitis Relief
Care Cystitis Relief sachets are for the relief of the symptoms of cystitis in women and are cranberry flavoured.
£4.40
Add to basket
Cymalon Sachets - 6
Cymalon Sachets offer effective relief from the symptoms of cystitis, which is why it is one of the most popular cystitis remedies in the UK.
£4.99
Add to basket