Cymalon Sachets - 6
Cranberry flavour
Relieves the burning pain of cystitis
Take all six sachets over 2 days to complete the treatment
Cranberry flavour
Relieves the burning pain of cystitis
Take all six sachets over 2 days to complete the treatment
Product Information
Cymalon Sachets offer effective relief from the symptoms of cystitis, which is why it is one of the most popular cystitis remedies in the UK. Cymalon comes in a pack of six handy sachets


Description
Cymalon offers effective relief from the symptoms of cystitis, which is why it is one of the most popular cystitis remedies in the UK. Cystitis is an acute common condition amongst many women, which can occur at any age. Cystitis tends to manifest in sexually active, pregnant and post-menopausal women. They symptoms of cystitis include an inflammation of the bladder, which causes painful irritation and an unpleasant burning sensation when passing water.

With Cymalon you can make an attack of cystitis more manageable by taking a sachet mixed with water as soon as you feel those first warning signs of cystitis. Cymalon helps to neutralise urine acidity during an attack of cystitis - effective relief from the burning pain and irritation. Each Cymalon sachet contains the active ingredient sodium citrate BP, which works by reducing the alkalinity of the urine and helps relieve the discomfort of passing urine. Sodium citrate also makes the environment in the bladder less favourable for the survival of the infecting bacteria.Cymalon comes in a pack of six handy sachets. Even if your symptoms ease within a few hours, you should take the whole course of six sachets.
Usage
Take the contents of one sachet mixed in water 3 times daily over 48 hours.Even if your symptoms ease within a few hours, you should take the whole course of six sachets.
Ingredients
: granules, sodium citrate (2.8g), citric acid (anhydrous) 1g, sodium bicarbonate 1.2g, sodium carbonate (anhydrous) 0.1g.
Suitable For
Suitable For adults.
Cautions/Allergies
Keep out of the sight and reach of children. Suitable for adults only. Not suitable for use during pregnancy, in those with heart disease, high blood pressure, diabetes, any kidney disease or where a restricted salt intake is indicated.
Frequently Asked Questions (0)
You Could Also Consider These Cystitis Products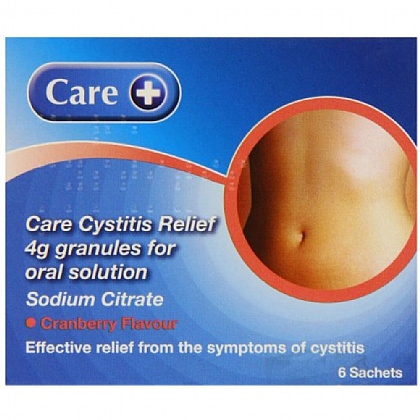 Care Cystitis Relief
Care Cystitis Relief sachets are for the relief of the symptoms of cystitis in women and are cranberry flavoured.
£4.40
Add to basket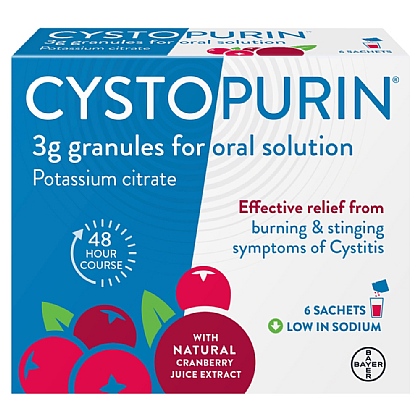 Cystopurin Granules Cranberry (GSL) - 6
Cystopurin Granules Cranberry (GSL) have been formulated for the symptomatic relief of cystitis.
£6.89
Add to basket