Corsodyl Daily Gentle Tape
Corsodyl Daily Gentle Tape is coated with a smooth wax treatment which dissolves quickly to release fluoride from the fibres. The gentle tape is designed to move easily between your teeth.
Everyday gum protection
Helps to remove plaque for healthy gums and teeth
Product Information
Description
Flossing with Corsodyl Daily Gentle Tape cleans away hidden plaque bacteria which can cause gum disease.
Usage
1. Break off 45cm of tape. 2. Wind the tape around the middle fingers of each hand, leaving 8cm of tape between them. 3. Gently guide the tape between teeth and run carefully up and down the side of each tooth taking care to clean just under the gum line. 4. Repeat the process for each space, using a clean section of tape each time.
Ingredients
30m Dental Tape
Suitable for / Cautions
Suitable For
Suitable for adults
Cautions/Allergies
Keep out of reach and sight of children.
Great Combinations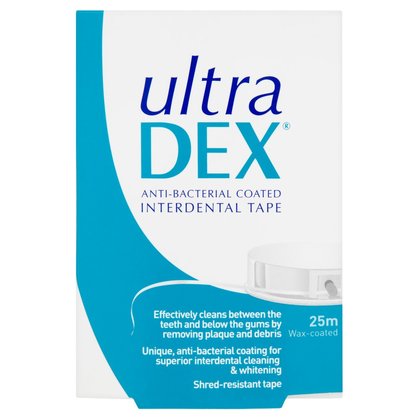 UltraDex Anti-Bacterial Coated Interdental Tape 25m Wax-Coated
Plaque and tartar causing bacteria can be found in the smallest and most difficult to reach areas of your mouth, particularly between teeth and below the gum line.
£3.32
RRP £3.49
Save £0.17 (5% OFF)
View Product
You Could Also Consider These Bad Breath Products