Product Information
Freederm Facial Cleanser has been formulated by experts for spot-prone skin. It helps fight blackheads and spot causing bacteria, whilst gently cleansing the skin to rid it from dirt and impurities.


Description
Freederm Facial Cleanser includes a gentle formula that does not irritate the skin, but is tough enough on spot-causing dirt and bacteria. It contains antibacterial ingredients that fight the bacteria which can aggrevate spots and also clears clogged pores.
Usage
Use Freederm Facial Cleanser regularly, morning and night - just use it instead of your normal soap or cleanser. Apply to the face and neck using your fingertips, and gently massage into the skin with a circular action. Rinse off with warm water and pat your face dry with a soft towel. If you prefer, use cotton wool pads to wipe away any excess, or to get rid of any make-up residue.
Ingredients
Aqua. Cetearyl Alcohol. Ceteth 20. Paraffinum Liquidium. Isopropyl Myristate. Benzalkonium Chloride. Chlorhexidine Dihydrochloride. Phenoxyethanol.
Suitable For
Suitable For adults and teenagers.
Cautions/Allergies
Keep out of the reach & sight of children. Do not store above 25¦C. Do not use after the expiry date stated on the pack. If you are using other skin treatments or make-up, apply these after using Freederm Facial Cleanser.
Frequently Asked Questions (0)
You Could Also Consider These Acne & Spot Treatments Products
Great Combinations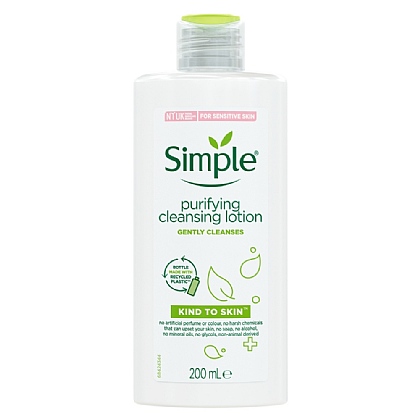 Simple Purifying Cleansing Lotion - 200ml
Simple Purifying Cleansing Lotion includes a perfect blend of ingredients to gently cleanse drier skin to help keep it smooth and softened.
£2.84
RRP £2.99
Save £0.15 (5% OFF)
View Product