Otex Express Combi Pack 10ml
Product Information
Combination pack contains everything you need for ear wax removal. Otex ear drops break down hardened ear wax and the easy to use syringe helps clean the ear


Description
Otex Express Combi Pack includes an advanced, OTC dual-action ear wax treatment to soften hardened ear wax and gently liberate oxygen to help it disperse.
Ear wax is common and is usually produced to form a protective coating over the skin in the ear canal. Ears are typically self-cleaning the movement of the jaw during talking and eating serves to move the wax along the canal where it will usually fall out naturally without you noticing. The amount of ear wax produced varies from person to person, however some individuals can produce extreme excessive amounts which can lead to a blockage in the ear canal. Clinically proven Otex Express Combi Pack also includes an easy-to-use bulb syringe, which gently cleanses the ear after treatment with the Otex solution.
Usage
Directions: Please read and retain the enclosed patient information leaflet, which also contains a helpful diagram.For use by adults, the elderly and children over 12 years.Step 1 - Use the ear drops to disperse ear wax as follows:Tilt head, and gently squeeze up to 5 drops into ear.Leave for a few minutes and then wipe surplus with tissue.Wash hands after use.Repeat once or twice daily, if necessary, for approximately 3 to 4 days while symptoms clear.Step 2 - After using the ear drops for 3 to 4 days, cleanse the ear canal of any remaining ear wax or drops by using the bulb syringe as follows:Fill bulb syringe with warm water.Gently position the nozzle of the bulb syringe into the opening of the ear canal but no further.Cleanse the ear canal by gently squeezing the bulb, allowing the rinse water to run out of the ear into a wash basin.
Storage
Do not store above 25¦C.Always replace cap of ear drops bottle after use, return bottle to carton and store upright.Discard ear drops 4 weeks after first opening.Do not use after the use by date shown on end flap of carton.
Ingredients
Phosphate Buffered Saline,Sodium Hyaluronate (Hyaluronic Acid),Phenoxyethanol,Methylparaben
Suitable For
Aduts and Children over 12
Cautions/Allergies
Before Using Otex Express Combi Pack: Do not use if:You have a history of ear problems, unless used under the close supervision of your doctor or pharmacistYou are putting anything else in the ear (such as other ear drops or a hearing aid)Your ear drum is (or has been) damagedYou suffer from dizzinessThere is anything else wrong with your ear (such as pain, swelling, discharge, infection or tinnitus)You have had your ear syringed in the last 2 to 3 days, or tried to remove the ear wax using fingernails, cotton buds or other implements, as this could make it painful to use the ear drops. If in doubt consult a doctor, nurse or pharmacist before use. If irritation or pain occurs during use, or if symptoms persist, stop treatment and consult your doctor. Keep away from eyes.
Frequently Asked Questions (0)
You Could Also Consider These Wax Removers Products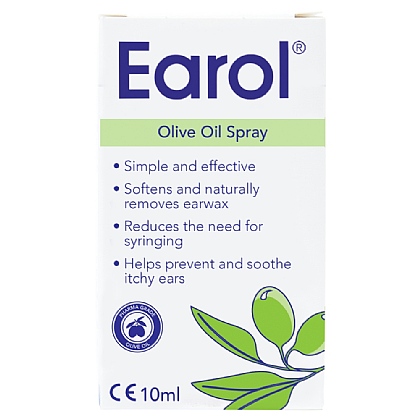 Earol Olive Oil Spray
Earol Olive Oil Spray provides a simple yet effect method of delivering a dose of olive oil into the ear canal.
£5.99
Add to basket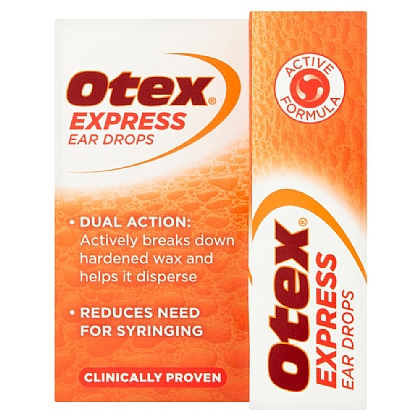 Otex Express Ear Drops 10ml
Otex Express ear drops contain urea hydrogen peroxide which breaks down ear wax into small pieces.
£4.31
RRP £5.06
Save £0.75 (15% OFF)
View Product