ENO Original Fruit Salts - 150g
ENO Original Fruit Salts provide symptomatic relief of flatulence, nausea and indigestion. Acting as an antacid, ENO neutralises stomach acid and regulates the stomachÆs pH levels.
Relief from stomach upsets
nausea
flatulence and indigestion
unique formula dissolves in water
pleasant fruit flavour
Product Information
Usage
Dissolve in water and consume whilst still fizzing or wait to subside.
Ingredients
Sodium Bicarbonate. Citric Acid Anhydrous. Sodium Carbonate. Saccharin Sodium.
Suitable for / Cautions
Suitable For
Suitable For adults and children.
Cautions/Allergies
Keep out of the reach and sight of young children. For oral use only. Store in a cool dry place.
Great Combinations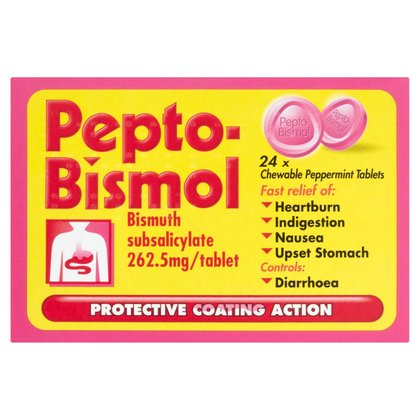 Pepto-Bismol Original Tablets (P) - 24
Pepto-Bismol Original Tablets are easy-to-take, chewable tablets that relieve heartburn, indigestion, nausea, upset stomach, and diarrhoea.
£5.81
RRP £6.12
Save £0.31 (5% OFF)
Add to basket
You Could Also Consider These Indigestion & Heartburn Products