Seabond Original Denture Fixative Lower Seals - 15
Seabond Original Denture Fixative Lower Seals are denture fixative seals which bond lowers gum-tight. The adhesive power of these denture fixative seals are activated and strengthened by the natural fluids in the mouth. Please note: only suitable for plastic and porcelain dentures.
Gum tight hold
Mess free
All round comfort and fit
Product Information
Usage
Place dry Seabond seal on denture. If too large, trim overlapping seal with scissors. If upper seal bunches up in back, cut a "V" in the back like the pre-cut "V" in front. Clean denture thoroughly. Moisten seal with warm water. Position moistened seal on to denture. Smooth any wrinkles with fingers. Place dentures into mouth. Hold firmly until secure. If seal does not hold, moisten seal more thoroughly. To remove seal from denture, lift corner and peel away. Change seal daily.
Ingredients
Fabric (Cellulose Acetate and Rayon),PEG-90M,Cellulose Gum Algin, Chlorophyllin-Copper Complex, CI 16035
Suitable for / Cautions
Suitable For
Suitable For elderly adults.
Cautions/Allergies
Keep out of the reach of children. If irritation occurs, discontinue use. If you have a history of difficulty swallowing or choking problems, you should not use this product.
Great Combinations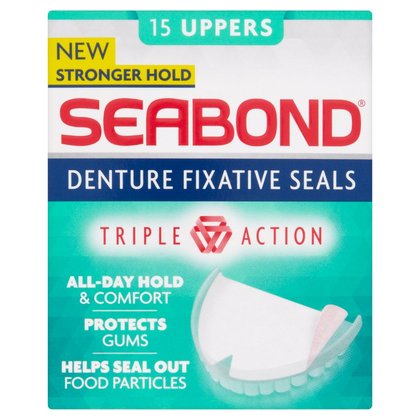 Seabond Original Denture Fixative Upper Seals - 15
All-day gum tight hold. All-round fit and comfort. Total confidence. No ooze or mess like pastes.
£3.70
RRP £3.89
Save £0.19 (5% OFF)
Add to basket
You Could Also Consider These Dental Repair Products