Corsodyl Mint Mouthwash - 600ml
Treats gum disease
Maintains mouth hygiene
Mint Flavour
Treats gum disease
Maintains mouth hygiene
Mint Flavour
Product Information
Corsodyl Mint Mouthwash is a medicated mouthrinse which has been formulated to help treat and prevent gingivitis, or gum disease.


Description
Healthy gums are the foundation of healthy teeth. Corsodyl Mint Mouthwash is specially formulated for everyday use to help maintain the health of both your gums and teeth. It contains the active ingredient chlorhexidine digluconate 0.06% w/v, which has both antiseptic and disinfectant properties. Chlorhexidine digluconate helps to reduce the formation of dental plaque, which therefore helps to prevent an inflammation of the gums (gingivitis)Corsodyl Mint Mouthwash has a clinically proven formula that creates a 'protective shield' for up to twelve hours. Fluoride is also included as it helps to strengthen teeth and prevent cavities. For best oral hygiene results use Corsodyl Mint Mouthwash twice daily alongside a regular flossing routine and Corsodyl Daily Gum & Tooth Paste.
Usage
Adults and children over 12 years of age: use mouthwash after brushing you teeth as part of a daily oral hygiene routine.
Ingredients
Chlorhexidine Digluconate. Ethanol. Macrogolglycerol Hydroxystearate. Sorbitol. Peppermint Oil. Water.
Suitable For
Suitable For adults and children over the age of 12 years.
Cautions/Allergies
Keep out of the reach and sight of young children. Not suitable for children under 12 years of age. Do not use after the expiry date shown on the product packaging.
Frequently Asked Questions (0)
You Could Also Consider These Mouthwashes Products
Great Combinations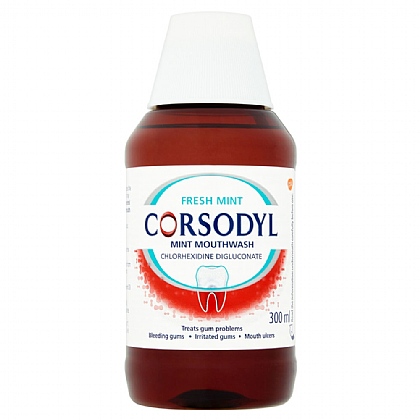 Corsodyl Fresh Mint Mouthwash - 300ml
Protects & maintains healthy gums. Fights the causes of plaque & gingivitis.
£4.55
RRP £5.35
Save £0.80 (15% OFF)
View Product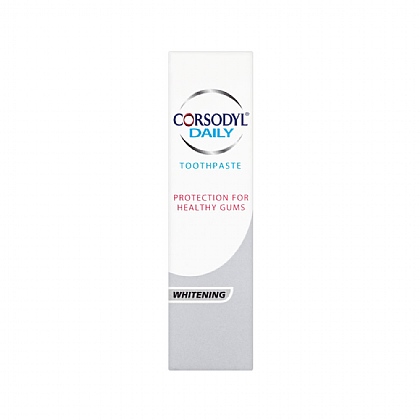 Corsodyl Daily Whitening Toothpaste 75ml
Corsodyl Daily Toothpaste contains sodium bicarbonate which helps remove plaque and fluoride to prevent cavities.
£3.79
RRP £3.99
Save £0.20 (5% OFF)
View Product