Corsodyl Daily Whitening Toothpaste 75ml
Corsodyl Daily Toothpaste contains sodium bicarbonate which helps remove plaque and fluoride to prevent cavities. It removes surface stains at restore your the natural whiteness to your teeth gently.
Protection for healthy gums
removes plaque
Gently whitens teeth
Product Information
Description
Corsodyl Daily Toothpaste is specially formulated for plaque removal.
Gum problems can be caused by the build up of plaque. Corsodyl Daily Toothpaste cleans teeth by aiding plaque removal and so helps maintain the health of your gums.
Also contains fluoride to prevent cavities so you can use it every day with confidence.

New Corsodyl Daily Toothpaste Whitening provides daily cleaning, protection for healthy gums and helps to restore teeth to their natural whiteness by gently removing surfaces stains.
The formulation contains mineral salt and herbal extract that give it a unique taste.

Why it is important to keep your gums healthy
Gum problems can be caused by the build up of plaque.
If not removed, plaque accumulates even more and can affect the health of the gums.
If your gums aren't healthy, the health of your teeth may be at risk.

Why use Corsodyl Daily Toothpaste
Corsodyl Daily Toothpaste contains sodium bicarbonate which, with brushing, helps remove plaque that causes the initial stages of gum problems.

Corsodyl Daily has a specialised formulation that gives it a unique taste. After 14 days using Corsodyl Daily toothpaste, most people liked its unique taste.
Usage
Brush twice daily and not more than 3 times, minimise swallowing and spit out.Always follow the label directions.

Gums problems can be a major cause of tooth loss. Use Corsodyl Daily Toothpaste twice a day, every day, to help maintain the health of both your gums and teeth.

How to use Corsodyl Daily Toothpaste
Brush your teeth twice daily with Corsodyl Daily Toothpaste for overall oral care and to help protect healthy gums.

Lower Age Limit
Advisory - Years
12
Ingredients
Sodium Bicarbonate, Aqua, Glycerin, Hydrated Silica, Alcohol, Cocamidopropyl Betaine, Mentha Piperita Oil, Mentha Arvensis Oil, Echinacea Purpurea Flower/Leaf/Stem Juice, Xanthan Gum, Titanium Dioxide, Krameria Triandra Extract, Sodium Fluoride, Chamomilla Recutita Extract, Salvia Officinalis Oil, Commiphora Myrrha Extract, Sodium Benzoate, Sodium Saccharin, Limonene, Linalool, Contains: Sodium Fluoride 0.310% w/w (1400 ppm Fluoride)
Suitable for / Cautions
Suitable For
children under 12 years.
Keep out of reach of children. If irritation occurs discontinue use.
Cautions/Allergies
Great Combinations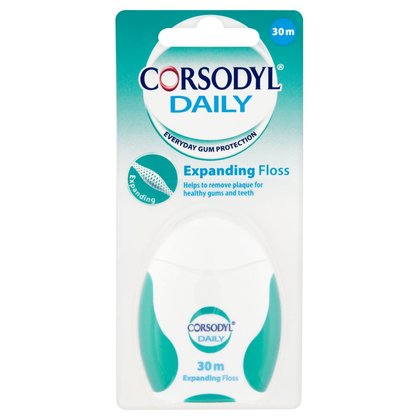 Corsodyl Daily Expanding Floss - 30ml
Helps clean between the teeth and along the gum line. Coated with a smooth wax treatment. Dissolves quickly to release fluoride from the fibres.
£2.37
RRP £2.49
Save £0.12 (5% OFF)
View Product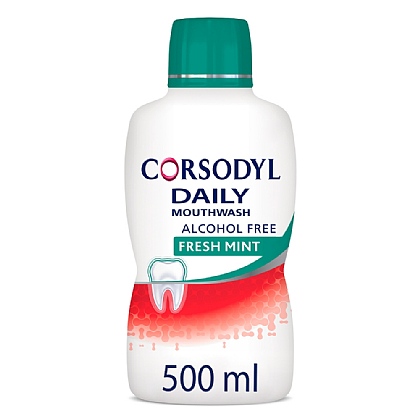 Corsodyl Daily Fresh Mint Alcohol Free Mouthwash 500ml
Corsodyl Daily Fresh Mint Alcohol Free Mouthwash is a medicated mouthwash that has been formulated to help treat and prevent gingivitis, or gum disease.
£4.89
RRP £5.15
Save £0.26 (5% OFF)
Add to basket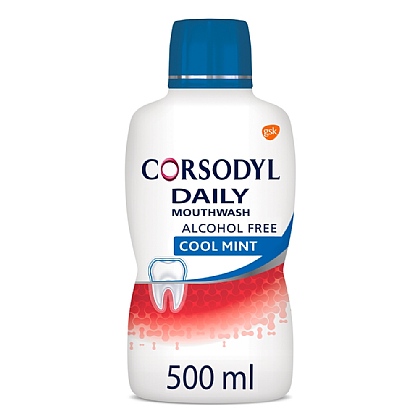 Corsodyl Daily Cool Mint Alcohol Free Mouthwash - 500ml
Protects & maintains healthy gums. Fights the causes of plaque & gingivitis. Alcohol free.
£4.89
RRP £5.15
Save £0.26 (5% OFF)
Add to basket
You Could Also Consider These Teeth Whitening Products