Selsun Shampoo 2.5% w/v - 150ml
Selsun Shampoo has been specifically formulated to treat dandruff and seborrhoea dermatitis. This medicated shampoo works in two ways; by decreasing the growth rate of the layer of skin cells on the scalp that cause dandruff, and by reducing greasiness of the scalp.
Medical treatment for dandruff
Product Information
Usage
Adults and children over 5 years of age: Apply shampoo suspension liberally twice weekly for two weeks and then once weekly for another two weeks. Thereafter use only as often as required to control the condition.
Ingredients
Selenium Sulphide. Purified Water. Monoethanolamine Lauryl Sulphate. Empigen BB. Bentonite. Glyceryl Monoricinoleate S. Sodium Chloride. Titanium Dioxide. Perfume. Sodium Dihydrogen Phosphate Dihydrate. Citric Acid.
Suitable for / Cautions
Suitable For
Suitable For adults and children over the age of 5 years.
Cautions/Allergies
Avoid contact with the eyes. Keep out of the reach & sight of young children. Not suitable for children under the age of 5 years.
Great Combinations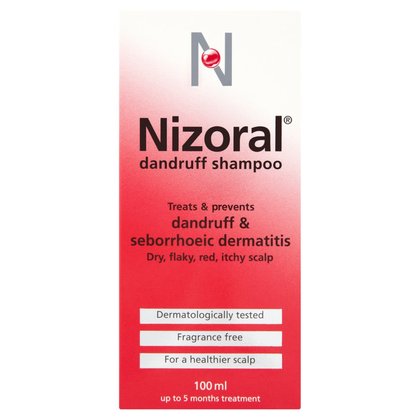 Nizoral Anti-Dandruff Shampoo (P) - 100ml
Nizoral Anti-Dandruff Shampoo treats and prevents dandruff and it's symptoms including dry, flaky, red and itchy scalp.
£10.23
RRP £10.76
Save £0.53 (5% OFF)
Add to basket
You Could Also Consider These Dandruff Products