Neutrogena T/Gel Therapeutic Shampoo - 250ml
Neutrogena T/Gel Therapeutic Shampoo has been specifically formulated for the treatment of itchy, flaky scalp disorders such as dandruff, seborrhoeic dermatitis and scalp psoriasis. With regular use this medicated shampoo, helps to control these problems, while leaving your hair shiny and manageable.
Works from first use
Clears and helps prevent dandruff
Conditions scalp
Dermatologically tested
Product Information
Usage
For best results, use at least twice a week or as directed by your doctor. Wet hair thoroughly. Massage shampoo into your scalp. Lather, leaving on your hair and scalp for several minutes. Rinse and repeat.
Ingredients
1% Coal Tar. Water. Sodium Laureth Sulfate. Polysorbate-20. Laureth 4. Cocamide DEA. Cocmidopropyl Betaine. PEG 120 Methyl Glucose Dioleate. Bishydroxyethyl Dihydroxypropyl Stearammonium Chloride. Tetrasodium EDTA. Imidazolidinyl Urea. Methylparaben. Propylparaben. Sodium Hydroxide. Citric Acid. Fragrance.
Suitable for / Cautions
Suitable For
Suitable For adults, the elderly and children over 12 years of age (children under 12 years should seek medical advice before using this shampoo)
Cautions/Allergies
For external use only. Keep all medicines out of the reach of children. Do not apply to acutely inflamed or broken skin. If irritation develops, discontinue use and seek medical consultation. Avoid contact with eyes. Do not exceed recommended dose. Pregnant and breastfeeding women should seek medical consultation before using this shampoo.
You Could Also Consider These Products
Alpecin Double Effect Shampoo - 200ml
Contains activating caffeine. Anti-inflammatory action. Gentle dandruff removal. Antimicrobial properties. Anti-oxidant effect.
£7.70
RRP £8.10
Save £0.40 (5% OFF)
Add to basket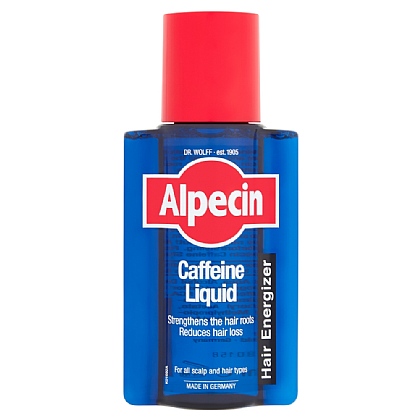 Alpecin Liquid - 200ml
Strengthens hair roots. Prevents hair loss. Suitable for all scalp types. Contains caffeine complex.
£7.70
RRP £8.10
Save £0.40 (5% OFF)
Add to basket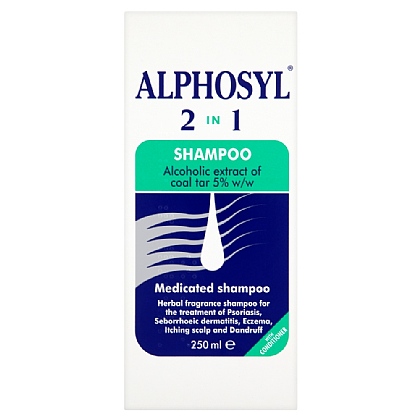 Alphosyl 2 in 1 Shampoo - 250ml
Medicated shampoo. Contains coal tar. Relieves the symptoms of minor skin/scalp conditions.
£6.63
RRP £6.99
Save £0.36 (5% OFF)
Add to basket