Fever Scan Forehead Thermometer
Fever Scan Forehead Thermometer provides quick results, is easy to read and offers a dual scale in Centigrade and Fahrenheit. Ideal for monitoring temperature trends.
Temperature shown in seconds
Suitable for babies and children
Can be used for the whole family
Safe and convenient to use
Product Information
Description
Fever Scan Forehead Thermometer measures babies and childrens temperature in only 15 seconds. It is a fast and reliable way to check for changes in temperature.
Usage
Place on the babies/childs forehead for 15 seconds and read the temperature with the easy to read coloured boxes. Fever Scan has been adjusted to allow for differences between forehead and oral temperatures during normal and feverish conditions. In other words, Fever Scan indicates the approximate oral temperature.
Ingredients
Forehead Thermometer
Suitable for / Cautions
Suitable For
Suitable for babies and children
Cautions/Allergies
Keep at room temperature and away from sunlight and dampness.
Great Combinations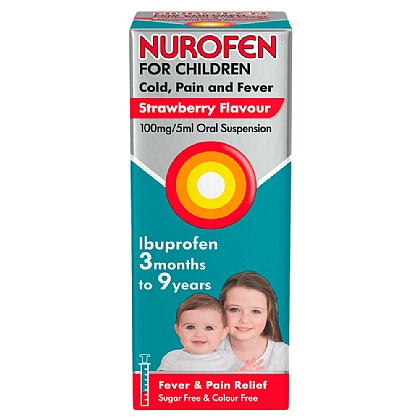 Nurofen for Children Cold Pain and Fever Strawberry Flavour - 100ml
Nurofen for Children Cold, Pain and Fever contains ibuprofen which can reduce the pain of teething, toothache, sore throat and headaches.
£3.79
RRP £3.99
Save £0.20 (5% OFF)
Add to basket
You Could Also Consider These Coughs, Colds & Flu Products