Olbas for Children Inhalant Decongestant Oil 10ml
For children & infants over 3 months
For the relief of children's blocked noses
Product ID: 5000477894084
For children & infants over 3 months
For the relief of children's blocked noses

Product Information
Olbas for Children contains a mixture of essential pure plant oils which gives off natural vapours to immediately clear nasal congestion and relieve painful sinuses. O!bas for Children is specially formulated for children and infants to gently clear blocked up noses. It is useful for the treatment of colds and flu, catarrh, hayfever and blocked sinuses.


Description
Being stuck indoors with a blocked up nose can be a miserable experience for individuals of any age but when it's a child or infant, it can be a particularly distressing time for both parent and child. So for those little blocked noses that find the traditional Olbas Oil a bit too powerful, there's Olbas for Children, a gentle decongestant formulation to relieve congestion in children & infants over three months. Olbas for Children is a versatile decongestant oil which can be utilised in a variety of different ways, to relieve the symptoms of colds & flu, catarrh, blocked sinuses and hayfever. Try adding drops of Olbas for Children in a hanky and then tucking it into your child's pillowcase at night, for soothing night-time congestion relief to aid restful sleep. When your little one is feeling achy, try massaging in a few drops of Olbas for Children for soothing relief.
Usage
Directions:For inhalation use only.Children aged 3 months to 2 years: Add 4 drops to a tissue and hold close to the nose allowing child to breathe in vapours.Children aged 2 and over: Add 8 to 12 drops to a tissue and use as above.Can be used at night or added to hot water.Not recommended for babies under 3 months old. For more detailed instructions read the package leaflet.
Avoid Direct Contact With Child's Skin & Clothing.Do not use if allergic to any of the ingredients.
You must contact a doctor if symptoms worsen or do not improve after 7 days.If accidentally swallowed, seek immediate medical advice.
Do not use if cap seal is broken.
Ingredients
w/w in the Inhalation Vapour Liquid: Cajuput Liquid 4.625%, Clove Oil 0.025%, Eucalyptus Oil 8.8625%, Juniper Oil 0.675%, Levomenthol 1.025%, Methyl Salicylate 0.925%, Mint Oil Partly Dementholised 8.8625%
Suitable For
Adults and Childrens aged 3 Months over
Cautions/Allergies
Keep Out Of The Reach And Sight Of Children.Do not store above 25¦C.
You Could Also Consider These Congestion Relief Products
Great Combinations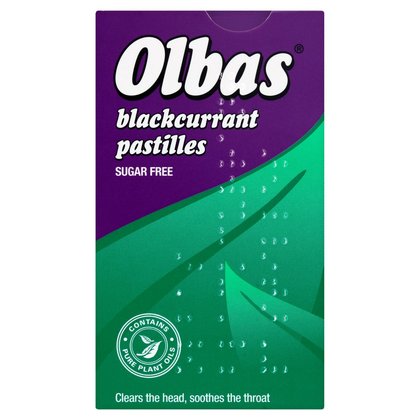 Olbas Blackcurrant Pastilles 40g
Olbas Blackcurrant Pastilles are sugar free and contain pure plant oils to sooth the throat.
£3.02
RRP £3.17
Save £0.15 (5% OFF)
Add to basket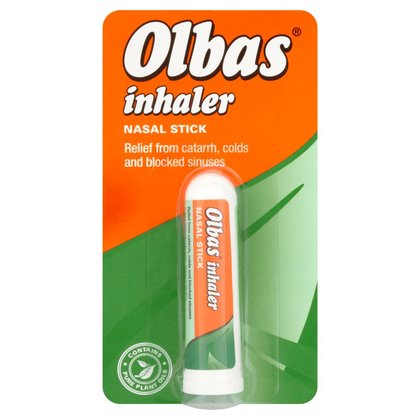 Olbas Inhaler Nasal Stick 695mg
Olbas Inhaler Nasal Stick is a pure plant remedy for symptomatic relief of blocked sinuses, catarrh, hay fever, colds and flu.
£2.45
RRP £2.57
Save £0.12 (5% OFF)
Add to basket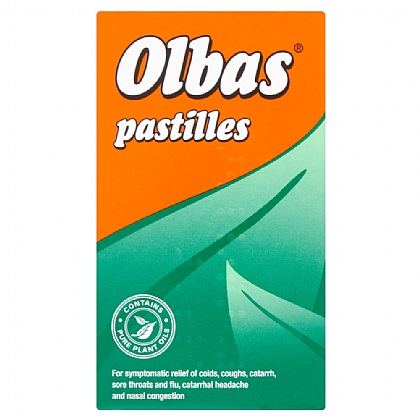 Olbas Pastilles 45g
Olbas Pastilles include built-in Olbas ingredients, to decongest the nose and soothe the throat.
£2.65
RRP £2.79
Save £0.14 (5% OFF)
Add to basket