Lemsip Max All in One Cold & Flu Capsules
For Headache & Fever
Blocked nose
Body aches and Sore throat
For Headache & Fever
Blocked nose
Body aches and Sore throat
Product Information
Lemsip Max All in One is a combination of active ingredients which are effective in relieving the symptoms associated with colds and flu, including relief of aches and pains, sore throats, headache, nasal congestion, lowering of temperature and chesty cough.


Description
Lemsip Max All in One Capsules are ideal for when you're on the go and just don't have time to rest and nurse your symptoms. Each capsule provides relief from all the major symptoms of cold and flu, including fever, headaches, body aches, blocked nose, sore throat and chesty cough.

Lemsip Max All in One Capsules contain three active ingredients, paracetamol 500mg, phenylephrine HCI 6.1mg, and guaifenesin 100mg. Paracetamol is an analgesic and antipyretic which assists with the relief of headache, sore throat, fever, body aches & pains. Phenylephrine HCI acts as a decongestant to help relieve the symptoms of a blocked nose. Guaifenesin is an expectorant that works to ease chesty coughs. Lemsip Max All In One Cold and Flu helps to relieve your symptoms so you can get back on your feet and on with your life.
Usage
DirectionsHow to take: For oral use. Lemsip Max All in One Cold & Flu Capsules should be swallowed whole with water. Do not chew.How much to take: Adults and children over 16: Two capsules to be taken every 4-6 hours. Do not exceed 8 capsules in a total of 24 hours. Children 12-15 years: One capsule to be taken every 4-6 hours. Do not exceed 4 capsules in 24 hours. Not to be taken by under 12 years olds.
Ingredients
(per capsule): Paracetamol 500mg, Phenylephrine HCI 6.1 mg, Guaifenesin 100mg
Suitable For
Adults and Children Aged 12 Years and over
Cautions/Allergies
Max Temp ¦C: 25Do not store above 25¦C.Do not exceed the stated dose.WarningsPlease read the enclosed leaflet before taking the product.You should ask your pharmacist before taking this product if you are pregnant.Contains paracetamol. Do not take with any other paracetamol-containing products.Immediate medical advice should be sought in the event of an overdose, even if you feel well.Keep out of the reach of children. If symptoms persists consult your doctor.Do not take if: allergic to any ingredient, if you have a serious heart condition, high blood pressure, overactive thyroid or you are taking or have taken MAOI medicine within 14 days.
Frequently Asked Questions (0)
You Could Also Consider These Colds & Flu Treatments Products
Great Combinations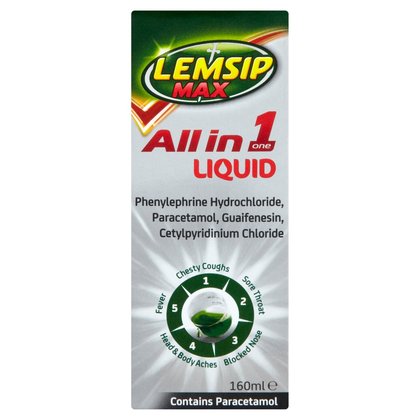 Lemsip Max All in One Liquid
For short term relief of cold and flu symptoms including aches and pains, headache, feverishness, blocked nose, tickly sore throat and chesty coughs.
£5.80
RRP £6.11
Save £0.31 (5% OFF)
View Product
Lemsip Cold & Flu Blackcurrant Sachets - 10
Contains Paracetamol. Blackcurrant Flavour. Relieves headaches, fever, blocked nose, sore throat, body aches & pains.
£3.99
Add to basket