Beechams Cold & Flu Lemon Sachets - 10
Beechams Cold & Flu Lemon Sachets provide rapid and effective relief from the major cold and flu symptoms in a comforting hot drink.
For sore throats, blocked noses, headache and fever
Non-drowsy
Hot Lemon Flavour
Product Information
Description
Beechams Cold & Flu Lemon Sachets contain the active ingredients, paracetamol and phenylephrine hydrochloride - to provide effective relief from cold symptoms with the comforting feeling of a hot drink. Paracetamol acts as an analgesic (painkiller) and antipyretic (reduces body temperature when you have a fever), while phenylephrine hydrochloride is a decongestant which unblocks the nose and sinuses. Take Beechams Cold & Flu Lemon Sachets at the first sign of a cold or flu for the rapid relief of symptoms such as fever, headache, aching limbs, blocked nose, sore throat pain, sinus pain and shivers.
Usage
Adults and children aged 12 years and over: 1 sachet to be taken every four to six hours as necessary, up to a maximum of 6 sachets in 24 hours
Ingredients
Each 6g sachet contains: Paracetamol Ph Eur 600 mg. Ascorbic Acid Ph Eur (Vitamin C) 40mg. Phenylephrine Hydrochloride Ph Eur 10mg. Sucrose Sodium.
Suitable for / Cautions
Suitable For
Suitable For adults and children over the age of 12 years.
Cautions/Allergies
Keep out of the reach and sight of children. Not suitable for children under the age of 12 years. Do not exceed the recommended daily dose. Do not take with any other paracetamol-containing products. If symptoms persist seek medical consultation.
Great Combinations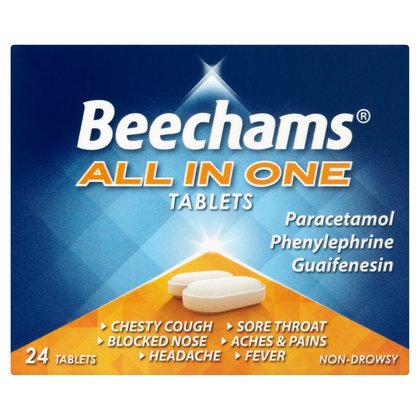 Beechams All in One Tablets
Beechams All in One Tablets are used for the short term relief of the symptoms of colds, chills and flu with chesty coughs.
£4.55
RRP £4.79
Save £0.24 (5% OFF)
View Product
You Could Also Consider These Colds & Flu Treatments Products