Nicorette QuickMist Mouthspray - 13.2ml
Nicorette QuickMist Mouthspray is a fast-acting mouthspray that starts to get to work in 60 seconds, quickly helping you overcome the urge to smoke.
Helps to overcome your urge to smoke
Works in 60 seconds
Freshmint flavour
Product Information
Usage
For adults & children 12 years and over: It is important to use enough nicotine spray to control cravings, and using 1 or 2 sprays corresponds to the nicotine from a cigarette. Use one spray first and if your cravings do not disappear within a few minutes use a second spray. If 2 sprays are required to control cravings, future doses may be delivered as 2 consecutive sprays.
Ingredients
This pack contains 1 dispenser, containing 13.2 ml of solution which provides at least 150 oromucosal sprays, each spray containing 1mg nicotine. Also contains: Propylene Glycol. Anhydrous Ethanol. Trometamol. Poloxamer 407. Glycerol. Sodium Hydrogen Carbonate. Levomenthol. Mint Flavour. Cooling Flavour. Sucralose. Acesulfame Potassium. Hydrochloric Acid. Purified Water.
Suitable for / Cautions
Suitable For
Suitable For adults and children over the age of 12 years.
Cautions/Allergies
Keep out of the reach and sight of young children. Not suitable for those under the age of 12 years. Do not use more than 2 sprays per dose or 4 sprays per hour or 64 sprays per day. Do not exceed the stated dose. Do not store above 25¦C. Pregnant & breastfeeding women should seek medical consultation before using Nicorette Invisi-Patch.
Great Combinations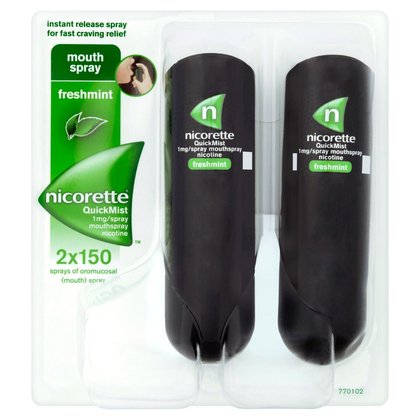 Nicorette QuickMist Duo Mouthspray - 13.2ml x 2
Fast-acting mouthspray. Works in 60 seconds. With a slim & stylish spray dispenser.
£30.63
RRP £32.24
Save £1.61 (5% OFF)
View Product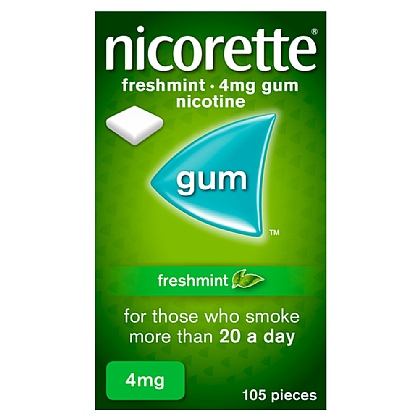 Nicorette Freshmint 4mg Gum - 105
Quickly absorbed. Relieves cravings. Double coated for enhanced flavour.
£17.30
RRP £18.21
Save £0.91 (5% OFF)
Add to basket
You Could Also Consider These Nicorette Products