Flomax Relief MR - 14 Capsules
Flomax Relief MR Capsules contains active ingredient tamsulosin, an established alpha-blocker treatment that is well-tolerated and was previously only available on prescription. It effectively relieves frequent night-time urinating, the urge to urinate every few hours, weak flow and feeling of unfinished urination.
Fast acting and will produce an effect after the first dose
Usually relieves symptoms within 7-14 days
Allows you to urinate more freely
Product Information
Description
Flomax Relief MR Capsules have been specifically formulated to treat the lower urinary tract symptoms (LUTS) of a common condition called benign prostatic hyperplasia (BPH). Please note: A pharmacist or medical practitioner reserves the right to refuse dispensation of Flomax Relief to any person whom he may deem unsuitable for this treatment.

The prostate gland is found just below a man's bladder and when it gets bigger it can often cause issues during urination. BPH can make it difficult for many men to start urinating, meaning it takes longer to pee or lead to the feeling that a man still needs to urinate. Many men believe that these annoying urination issues are simply a part of getting older, however they might not realise how much these symptoms have affected their lives until they seek treatment. A single Flomax Relief capsule once a day may be the solution to these annoying urination issues. Once you start taking Flomax Relief you can expect to see relief from your symptoms within two weeks. Within six weeks, it is important to seek medical consultation to confirm the symptoms are due to BPH; and that Flomax Relief is a suitable treatment.
Usage
Males aged 45 - 75 years: Note the date you start taking this medicine. Take 1 capsule daily after the same meal each day. Swallow the capsule whole with water. Do not chew or crunch the capsule. If you are taking this medication for the first time, return to your pharmacist after 2 weeks treatment. Then, see your doctor within 6 weeks of starting treatment to confirm that your symptoms are due to BPH.
Ingredients
Active ingredient: Tamsulosin Hydrochloride. Also contains: Microcrystalline Cellulose. Methacrylic Acid-Ethyl Acrylate Copolymer. Polysorbate. Sodium Laurilsulfate. Triacetin. Calcium Stearate. Talc.
Suitable for / Cautions
Suitable For
Suitable For male adults aged 45 - 75 years of age only.
Cautions/Allergies
Keep out of reach and sight of children. For use ONLY with males aged 45 - 75 years of age. Do not use after expiry date. Do not store above 30¦C. Seek medical consultation before use and if your symptoms change or get worse.
You Could Also Consider These Prostatic Hyperplasia Products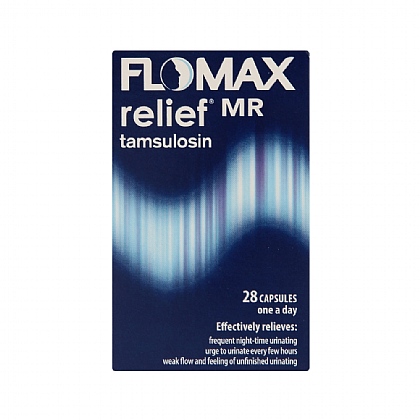 Flomax Relief Capsules
Flomax Relief is a new, over-the-counter
alpha-blocker treatment for urinary symptoms of BPH.
£16.48
RRP £17.35
Save £0.87 (5% OFF)
View Product