Steradent Active Plus 30 Tablets
Steradent Active Plus leaves your dentures feeling perfectly clean and smooth. It removes 50% more plaque than brushing alone.
Removes plaque
Kills 99.9% of bacteria in just 3 minutes
British Dental Health Foundation approved

Product Information
Usage
Use twice daily, Steradent Active Fresh will leave your dentures feeling perfectly clean and smooth.

Directions for use:
For optimum cleaning results we recommend using Steradent Active Plus twice a day. To remove any tartar build-up use Steradent Pro Anti- Tartar once a week.
1. Rinse denture. Place one Steradent Active Plus tablet together with your denture in a glass. Replace cap firmly after use.
2. Fill with warm water to cover dentures and soak for 3 minutes. Do Not Use Boiling Water Straight from the Kettle as this will Damage Dentures.
3. Brush and rinse denture in water thoroughly before wearing.
4. Dispose of the solution after use and rinse the glass.
Ingredients
Sodium Bicarbonate, Potassium Caroate, Citric Acid, Sodium Carbonate Peroxide, Sodium Sulfate, Sodium Carbonate, PEG-150, Malic Acid, Sodium Dodecylbenzenesulfonate, PEG-90, Aroma, CI 28440, CI 42090
Suitable for / Cautions
Suitable For
Keep out of the reach and sight of children.
Cautions/Allergies
DO NOT USE BOILING WATER STRAIGHT FROM THE KETTLE AS THIS WILL DAMAGE DENTURES.

Warning: For soaking dentures only. Do not place tablets in mouth. Do not drink the solution. Keep out of reach and sight of children.
If accidentally swallowed seek medical advice immediately and show this container.
If split or splashed, rinse well with water. Do not dissolve with any other denture cleaners. Not recommended for users with known hypersensitivity to any ingredient.
In case of contact with eyes rinse immediately with plenty of water and seek medical advice and show this container. Causes skin irritation. Wash hands thoroughly after use. Dispose of solution and unwanted tablets responsibly.
Great Combinations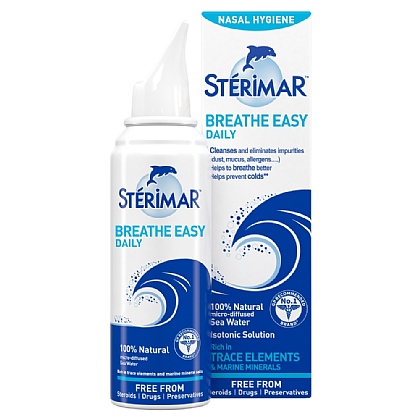 Sterimar Nasal Hygiene Isotonic Spray - 100ml
Sea water microdiffusion spray. Isotonic. 100% natural. Drug-free with no preservatives.
£6.46
RRP £6.79
Save £0.33 (5% OFF)
View Product
You Could Also Consider These Dental Accessories Products