Tixylix Toddler Syrup 3 Months to 5 Years 150ml
Soothes & relieves dry, tickly coughs. 3 months to 5 years. Sugar free and colour free. Blackcurrant flavour
Soothes dry
tickly coughs
Sugar and colour free
suitable from 3 months
Product Information
Description
Tixylix Toddler Syrup is formulated to soothe and relieve the symptoms of children's dry, tickly coughs.
Usage
Allow 3 to 4 hours between doses. 3 to 12 months - one 5ml spoonful. 1 to 5 years - two 5ml spoonfuls
Ingredients
Active ingredient per 5ml: 0.75ml Glycerol. Other ingredients: Liquid maltitol, hydroxyethylcellulose, sodium benzoate, citric acid monohydrate, sodium citrate, natural flavours (vanilla, blackcurrant) and purified water.
Suitable for / Cautions
Suitable For
3-12 months - One 5 ml spoonful
1 to 5 years - Two 5 ml spoonful's
Cautions/Allergies
Like all medicines, Tixylix Toddler Syrup can cause side effects, although not everybody gets them.
Tixylix Toddler may cause diarrhoea in overdose.If you child experiences any side effects, please tell your doctor or pharmacistKeep out of reach and sight of children - do not store above 25 degree Celsius. Keep contained tightly closed
Great Combinations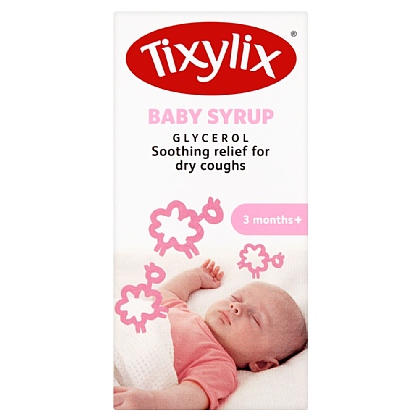 Tixylix Baby Syrup Glycerol 3 Months+ 100ml
Soothing relief for dry coughs.
£3.37
RRP £3.55
Save £0.18 (5% OFF)
Add to basket
You Could Also Consider These Coughs & Sore Throats Products