Tixylix Baby Syrup Glycerol 3 Months+ 100ml
Soothing relief for dry coughs.For Infants from 3 months to 5 years. Sugar free. Colour free. Blackcurrant flavour
Soothes and relieves dry
ticly coughs
Sugar and colur free
delicious blackcurrant flavour
Product Information
Ingredients
Active ingredient per 5ml: 0.75ml Glycerol. Other ingredients: Liquid maltitol, hydroxyethylcellulose, sodium benzoate, citric acid monohydrate, sodium citrate, natural flavours (vanilla, blackcurrant) and purified water.
Suitable for / Cautions
Suitable For
Suitable For Infants from 3 months to 5 years
Cautions/Allergies
Please read the enclosed leaflet carefully.If the condition does not get better in 3 days, talk to your doctor.Keep all medicines out of the reach and sight of children.
Great Combinations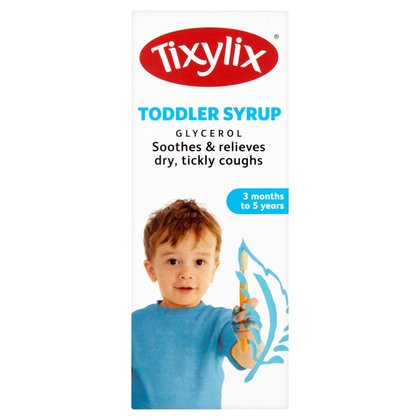 Tixylix Toddler Syrup 3 Months to 5 Years 150ml
Soothes & relieves dry, tickly coughs.
£4.40
RRP £4.63
Save £0.23 (5% OFF)
View Product
You Could Also Consider These Coughs & Sore Throats Products