Benylin Children's Night Cough Syrup - 125ml
Benylin Children's Night Cough Syrup is the only cough solution for kids that is specifically formulated for night time. It helps both parent and child get a good night's sleep, as it calms and soothes coughs.
Relieves coughs and congestion
Helps your child to breathe more easily
Raspberry flavour
Sugar and colour free.
Product Information
Usage
Children 6 - 12 years and over: Take two 5ml spoonfuls every every 6 hours.
Do not take more than 4 doses in 24 hours.
Ingredients
Each 5 ml of Cough Syrup contains: Diphenhydramine Hydrochloride 7 mg, Levomenthol 0.55 mg Also contains: Sorbitol Solution (E420), Ethanol (5 vol %) and Sodium (16.47 mg/5 mL).
The flavouring is Raspberry
Suitable for / Cautions
Suitable For
Suitable for children over the age of 6 years.
Cautions/Allergies
Keep out of the reach and sight of children.
Not suitable for children under the age of 6 years.
Do not exceed the recommended daily dose. If symptoms persist seek medical consultation.
Great Combinations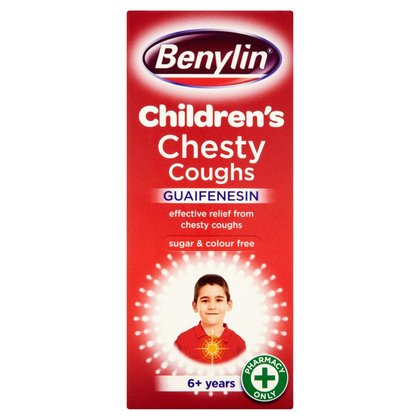 Benylin Children's Chesty Coughs 6-12 Years 125ml
Benylin Children's Chesty Coughs contains guaifenesin in a pleasant strawberry flavour medicine.
£4.45
RRP £4.68
Save £0.23 (5% OFF)
Add to basket
Benylin 4 Flu Tablets - 24
Contains diphenhydramine and paracetamol. Provides effective relief from flu symptoms.
£5.92
RRP £6.24
Save £0.32 (5% OFF)
Add to basket
You Could Also Consider These Coughs & Sore Throats Products