Benylin Children's Night Cough Syrup - 125ml
Product Information
Benylin Children's Night Cough Syrup is the only cough solution for kids that is specifically formulated for night time. It helps both parent and child get a good night's sleep, as it calms and soothes coughs.


Description
Benylin Children's Night Cough Syrup is both sugar and colour free, and includes an appealing raspberry taste that kids will love!
Usage
Children 6 - 12 years and over: Take two 5ml spoonfuls every every 6 hours.
Do not take more than 4 doses in 24 hours.
Ingredients
Each 5 ml of Cough Syrup contains: Diphenhydramine Hydrochloride 7 mg, Levomenthol 0.55 mg Also contains: Sorbitol Solution (E420), Ethanol (5 vol %) and Sodium (16.47 mg/5 mL).
The flavouring is Raspberry
Suitable for / Cautions
Suitable For
Suitable for children over the age of 6 years.
Cautions/Allergies
Keep out of the reach and sight of children.
Not suitable for children under the age of 6 years.
Do not exceed the recommended daily dose. If symptoms persist seek medical consultation.
You Could Also Consider These Coughs & Sore Throats Products
Great Combinations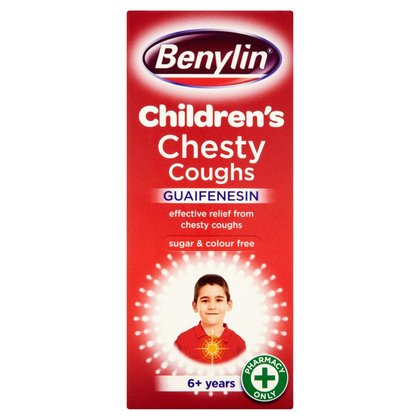 Benylin Children's Chesty Coughs 6-12 Years 125ml
Benylin Children's Chesty Coughs contains guaifenesin in a pleasant strawberry flavour medicine.
£4.45
RRP £4.68
Save £0.23 (5% OFF)
Add to basket
Benylin 4 Flu Tablets - 24
Contains diphenhydramine and paracetamol. Provides effective relief from flu symptoms.
£5.92
RRP £6.24
Save £0.32 (5% OFF)
Add to basket