Benylin Children's Chesty Coughs 6-12 Years 125ml
Benylin Children's Chesty Coughs contains guaifenesin in a pleasant strawberry flavour medicine. This helps loosen mucus from the lungs to ease chesty coughs in children aged 6-12
For chesty coughs
Sugar and colour free
Strawberry flavour
Product Information
Usage
Children 6-12 years: Two 5ml spoonfuls four times a day
Ingredients
Active Ingredient per 5ml: 50mg Guaifenesin. Other ingredients: Glycerol, sorbitol liquid(E420), carmellose sodium, sodium citrate, sodium saccharin, sodium benzoate (E211), citric acid monohydrate, strawberry flavour and water. See leaflet for further information
Suitable for / Cautions
Suitable For
Do not use in children under 6 years of age.
Cautions/Allergies
Do not exceed the stated dose.

As with all medicines, if you are pregnant, breast-feeding or taking any other medicines, consult your doctor or pharmacist before taking this product.
If symptoms persist or worsen consult your doctor or pharmacist, Max Temp ¦C: 25
Great Combinations
Benylin 4 Flu Tablets - 24
Contains diphenhydramine and paracetamol. Provides effective relief from flu symptoms.
£5.21
RRP £5.48
Save £0.27 (5% OFF)
Add to basket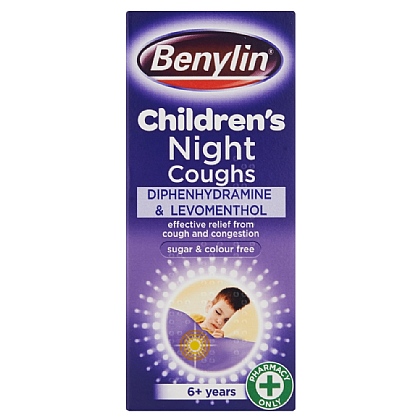 Benylin Children's Night Cough Syrup - 125ml
Sugar & colour free. Specifically formulated for children.
£3.79
RRP £3.99
Save £0.20 (5% OFF)
Add to basket
You Could Also Consider These Coughs & Sore Throats Products