Benylin Children's Chesty Coughs 6-12 Years 125ml
Effective relief from chesty coughs
Sugar and colour free
Strawberry flavour
Non-drowsy
Product ID: 3574660509137
Effective relief from chesty coughs
Sugar and colour free
Strawberry flavour
Non-drowsy

Product Information
Benylin Children's Chesty Coughs contains guaifenesin in a pleasant strawberry flavour medicine. This helps loosen mucus from the lungs to ease chesty coughs in children aged 6+.


Description
Benylin Children's Chesty Coughs provides effective relief from children's chesty coughs without causing drowsiness.
Usage
Children 6-12 years: Two 5ml spoonfuls four times a day.
Ingredients
Each 5 ml of Cough Syrup contains: Guaifenesin 50 mg.
Also contains: Sorbitol Liquid (E420) and Sodium (14.88 mg/5 mL).
The Flavouring is Strawberry.
Suitable for / Cautions
Suitable For
Do not use in children under 6 years of age.
Cautions/Allergies
Do not exceed the stated dose.
If symptoms persist or worsen consult your doctor or pharmacist.
You Could Also Consider These Coughs & Sore Throats Products
Great Combinations
Benylin 4 Flu Tablets - 24
Contains diphenhydramine and paracetamol. Provides effective relief from flu symptoms.
£5.92
RRP £6.24
Save £0.32 (5% OFF)
Add to basket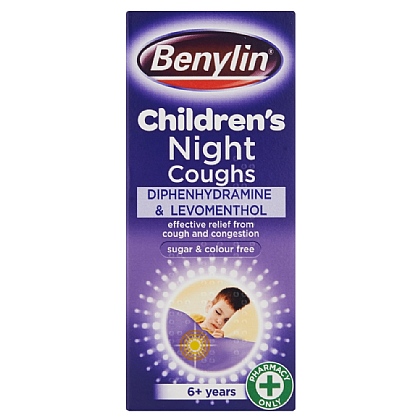 Benylin Children's Night Cough Syrup - 125ml
Sugar & colour free. Specifically formulated for children.
£4.61
RRP £4.86
Save £0.25 (5% OFF)
Add to basket