Zirtek Allergy Relief Tablets
Once daily
Non-drowsy
Suitable from the age of 6 years
Product ID: 5024091747977
Once daily
Non-drowsy
Suitable from the age of 6 years

Product Information
Zirtek Allergy Relief tablets treats the symptoms of hayfever and other allergies, such as those caused by pets and dust mites. It can also be used to relieve itchy skin rashes like hives or urticaria.


Description
Zirtek Allergy Relief is a 2nd generation antihistamine that contains the active ingredient Cetirizine Dihydrochloride. It will not cause drowsiness in the majority of people, and blocks the effects of a substance called histamine which occurs naturally in the body. Zirtek effectively relieves the unpleasant symptoms of sneezing, irritated, runny and blocked up nose, itchy red and watering eyes and skin rashes.
Usage
Adults and Children 12 years and over: Take 1 tablet daily. Children aged 6-12 years: half a tablet twice a day.
Ingredients
Cetirizine Dihydrochloride (10 mg), Microcrystalline Cellulose, Lactose Monohydrate, Colloidal Anhydrous Silica and Magnesium Stearate. The film coat contains Hydroxypropylmethylcellulose, Titanium Dioxide (E171), Polyethylene Glycol.
Suitable for / Cautions
Suitable For
Adults and Children 6 years and over.
Cautions/Allergies
Not suitable for children under the age of 6 years (unless advised by a medical practitioner). Do not exceed the recommended daily dose. Keep out of the reach of children.
You Could Also Consider These Allergy & Hayfever Capsules & Tablets Products
Great Combinations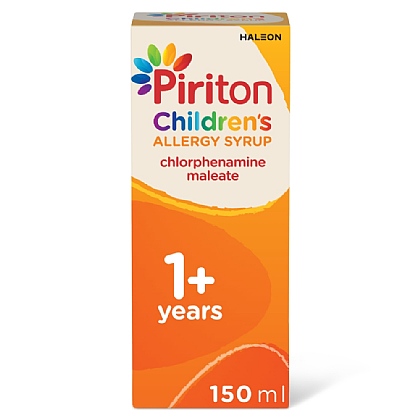 Piriton Syrup - 150ml
Provides fast relief of hayfever & other allergies. Contains chlorphenamine maleate. Suitable for young children.
£4.75
RRP £4.99
Save £0.24 (5% OFF)
Add to basket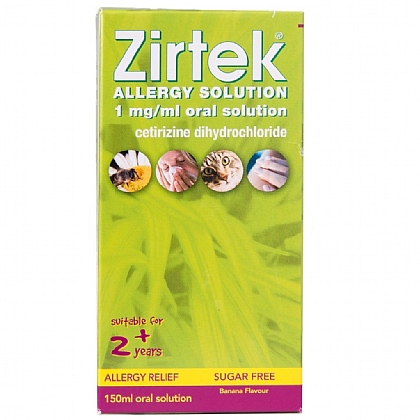 Zirtek Allergy Solution 150ml
Oral solution. Sugar Free. With banana flavouring. Provides relief from all the symptoms of hayfever for up to 24 hours.
£6.06
RRP £6.38
Save £0.32 (5% OFF)
Add to basket