Phenergan 25mg Tablets - 56
Relieves allergies
Can be used for nausea and insomnia
Suitable from the age of 2 years
Product ID: 50938537
Relieves allergies
Can be used for nausea and insomnia
Suitable from the age of 2 years

Product Information
Phenergan 25mg Tablets have been formulated to help combat allergic conditions (such as hayfever), nausea and insomnia.


Description
Phenergan 25mg Tablets can be used for the short-term treatment of allergic conditions, such as allergic contact dermatitis, allergic reactions to drugs, hives (urticaria), and insect bites and stings. They may also help to relieve related symptoms of redness, swelling and itching of the skin, and upper respiratory tract symptoms caused by seasonal allergies like hayfever.

Phenergan Tablets contain the active ingredient, Promethazine Hydrochloride 25mg, which belongs to a group of medicines called phenothiazines. It works by blocking a natural substance (histamine) that your body makes during an allergic reaction. This small blue tablet doesn't just act as an antihistamine, as it also includes antiemetic and sedative properties which may help to prevent travel sickness and insomnia respectively.

Phenergan 25mg Tablets are only permitted for short-term use and should not be used for longer than seven days.
Usage
Suitable for adults, the elderly and children over 2 years of age. Please read the enclosed instructions for correct dosage.
Ingredients
Pale blue tablets containing promethazine hydrochloride 25mg.
Suitable for / Cautions
Suitable For
Suitable For adults, the elderly and children over the age of 2 years.
Cautions/Allergies
For oral use only. Not suitable for children under the age of 2 years. Keep out of the reach and sight of young children. Do not take if your are allergic to the active substance Promethazine hydrochloride. May cause drowsiness.
You Could Also Consider These Allergy & Hayfever Capsules & Tablets Products
Great Combinations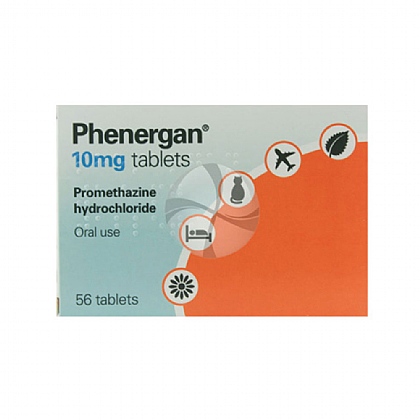 Phenergan 10mg Tablets - 56
Treats allergic conditions, nausea & insomnia. Contains promethazine hydrochloride.
£4.84
RRP £5.09
Save £0.25 (5% OFF)
Add to basket