Phenergan 10mg Tablets - 56
Relieves allergies
Can be used for nausea and insomnia
Suitable from the age of 2 years
Relieves allergies
Can be used for nausea and insomnia
Suitable from the age of 2 years
Product Information
Phenergan 10mg Tablets have been formulated to help combat allergic conditions (such as hayfever), nausea and insomnia.





Description
Phenergan 10mg Tablets contain the active ingredient, promethazine hydrochloride, which belongs to a group of medicines called phenothiazines. Promethazine hydrochloride works by blocking the effects of certain chemicals in the body and can be used to treat allergic conditions of the skin and upper respiratory tract. Promethazine hydrochloride has a sedative effect has been known to be used before a surgical procedure. It may also help to treat insomnia in adults but should not usually be used for longer than seven days.
Each Phenergan tablet contains 10mg of promethazine hydrochloride.
Usage
Suitable for adults, the elderly and children over 2 years of age. Please read the enclosed instructions for correct dosage.
Ingredients
Each tablet contains 10mg of the active substance, promethazine hydrochloride. The other ingredients are lactose, maize starch, povidone, magnesium stearate, polyethylene glycol, Opaspray (contains titanium dioxide-E171, hypromellose-E464 and indigo carmine aluminium lake blue-E132) and hypromellose
Suitable For
Suitable For adults, the elderly and children over the age of 2 years.
Cautions/Allergies
For oral use only. Not suitable for children under the age of 2 years. Keep out of the reach and sight of young children. Do not take if your are allergic to the active substance Promethazine hydrochloride. May cause drowsiness.
Frequently Asked Questions (0)
You Could Also Consider These Allergy & Hayfever Capsules & Tablets Products
Benadryl Allergy Liquid Release 10mg Capsules
Benadryl Allergy Liquid Release 10mg
Capsules provide relief of itchy & runny nose, itchy & watery eyes, sneezing and Urticaria (hives and itchy skin rash).
£5.29
Add to basket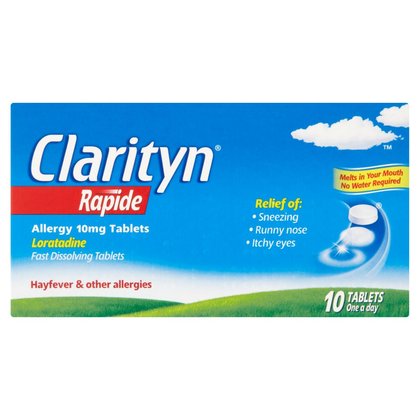 Clarityn Rapide Allergy
Clarityn Rapide Allergy tablets are used
to relieve allergic symptoms due to hay fever and other airborne allergies such as house dust mites and pet allergies.
£5.69
RRP £5.99
Save £0.30 (5% OFF)
View Product