Saw Palmetto 1440mg
High strength from the purest grade saw palmetto extract
Highly concentrated standardised extract of saw palmetto berries
In a vegetable oil base for easy absorption
Can be safely taken alongside any of our high strength multis
Full Money Back Guarantee
This high strength saw palmetto is a concentrated extract of the berries. We use an extract which is up to 12 times more concentrated than the cheaper, powdered berries used by many companies that consist largely of fibres and sugars. The berries are harvested at the optimal time. It's the fat soluble extract from the berries which contain the important compounds, namely the fatty acids and sterols, and the concentration process ensures their content is maintained optimised.
Saw Palmetto (Serenoa repens) is a type of small palm that grows naturally in the US, its fan shaped serrated leaves make it very distinctive. The berries were a source of food for native Indians for centuries and nowadays it has become one of the most popular herbal products available. Many customers choose to take our high strength Fish Oil 1100mg supplement alongside this product, particularly if they don't regularly achieve the recommended intake of oily fish from dietary sources.
Product Information
Daily Intake
Take 1 capsule daily with a meal. Do not exceed recommended daily dose. Food supplements should not replace a balanced diet and healthy lifestyle.
Formula
Whole Saw Palmetto Berry equivalent
1440mg
Saw Palmetto Extract (serenoa repens)
160mg
Ingredients
Saw Palmetto Extract, Capsule Shell (Gelatin, Glycerin, Colour: Iron Oxides), Sunflower Seed Oil.
Suitable for / Cautions
Suitable For
This product is suitable for all adults. This product is not suitable for vegetarians.
Cautions/Allergies
This product is free from wheat, yeast, dairy, soya, nuts and shellfish.This product is free from gluten containing ingredients
You Could Also Consider These Prostex & Saw Palmetto Products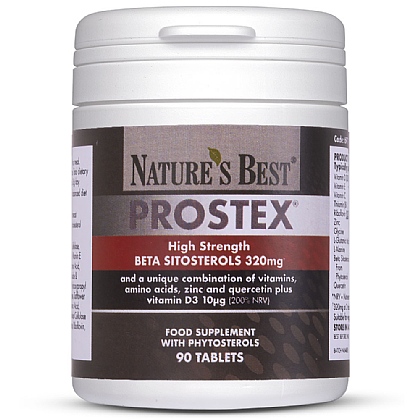 Prostex®
4.7/5 based on

39 customer reviews
Highest strength Beta Sitosterols
Highest strength beta sitosterols, a full 320mg per 2 tablets. With added vitamin D (10µg, important amino acids, zinc and the bioflavonoid quercetin.
From £12.50
View Product
By
Anonymous
, 16 Mar 2019
my husband has been taken this for over 8 years and swears by it
Recommend to a friend: Yes
How much has this product helped you?
By
P Picknell
, 14 Mar 2019
Recommend to a friend: Yes
How much has this product helped you?
By
Anonymous
, 11 Mar 2019
My husband uses it as he has some prostate problems. It is quite expensive.
Recommend to a friend: Yes
How much has this product helped you?
"high strength....low price"
By
Christopher Copp
, 10 Mar 2019
I take these as part of a hair care regime, I noticed a big change in my hairs'' strength and its'' look after a couple of bottles worth, I will keep taking this with Biotin and Selenium for best results. It does take a while for the effects to become apparent (I found), so it is not a quick ''fix'' for thinning hair, but it is a very good groundwork for a considered approach to improving hair quality.
Recommend to a friend: Yes
How much has this product helped you?
"Fast delivery, well packed, appear to be good quality."
By
Leland Lewis
, 08 Feb 2019
Time will tell how effective they are.
Recommend to a friend: Don't know
Thank you for taking the time to leave a review.

As with the majority of our products, this should be used daily for at least three months before the effects are assessed. It would be great if you could leave a review after this time.
Nature's Best Customer service:
How much has this product helped you?